A month after the man and I started dating, I was off to Cape Town for a month and he was off to Japan. It certainly set the stage for our life together as we both love to travel. You think it'd be easy to find a kindred travel spirit but it isn't. Some people are homebodies and don't like anything different. Some only want to travel if it is similar to the standards that they know at home or only where they speak English.
And lots of people love a hot holiday in the winter but will only go to an all-inclusive resort.
That's one of the reasons that we love Hawaii - it's SO much more than a beach holiday if you want it.
When we went to Maui this past December we knew that we wanted to drive to Hana. Although it's only 50 miles long, the Hana Highway can take over two hours to drive. It hugs the northwest coast of Maui with many parts single lane only. You drive slowly with frequent stops to yield to oncoming cars. You don't REALLY want to drive any faster as it is so curvy that we were all a bit queasy even at that slow a speed.
A few waterfalls and a few food stalls are the only stops along the way. And peeks at the ocean down below.
Although Hana has a population of about 1,200 people, it's fairly rural. The Hasegawa Grocery is near the center of town.
Some only come to Hana for the day on an organized bus trip. They may stay one night. We stayed three nights so we could explore.
There's one high end hotel in town with an upscale restaurant. And there's another one that's more middle of the road. Neither will give you the taste of Maui. And who wants to eat with other tourists? I want to meet locals.
To really experience Hana you eat at the food trucks. Often cash only with irregular hours, you need to be flexible. Run out of ingredients? Closed. Surfs up? Closed. Don't feel like it? Closed.
If it's open, better stop.
First up, Braddah Hutts BBQ Grill. We gobbled up the teriyaki chicken and fish tacos with the standard Hawaiian sides of a scoop of rice and a scoop of macaroni salad. This isn't gourmet eating but you aren't here for that. It's delicious.
The food is prepared on a grill like you'd have at home. Grab your napkins and cutlery and sit down at the communal table to enjoy.
We wanted to go to Uncle Bill's for breakfast but every time we drove by it was closed. Phyllis doesn't keep regular hours - again, if you see that she's open, you'd better stop by.
The white food truck sits in her yard in front of her house right off the highway.
On our last morning in Hana we drove by and we were in luck - she was open.
Phyllis was in the middle of cooking breakfast for a table of 8. It's a one person show so we had to wait a bit. You learn to "hang loose", especially in rural Hawaii. Put away the watches and the "to do" lists. Why are you in so much of a hurry?
At one point she ran out of some ingredients and hopped in the car to get over to the grocery store to stock up. Ten minutes later she was back and continued cooking.
She needed some herbs for the man's omelette and scooted out to the garden to grab some dandelion greens.
Her breakfast hit the spot.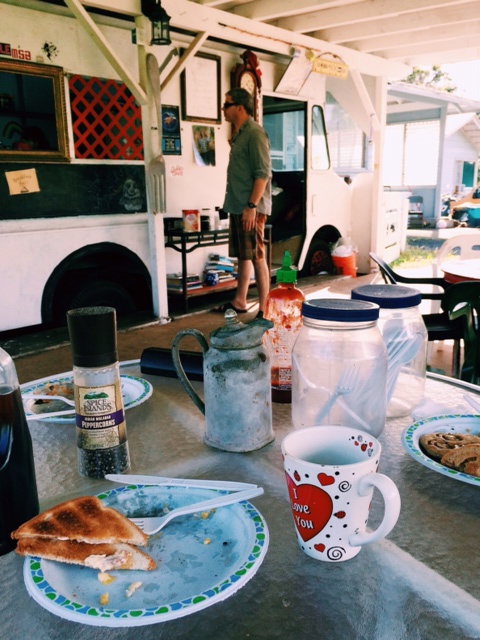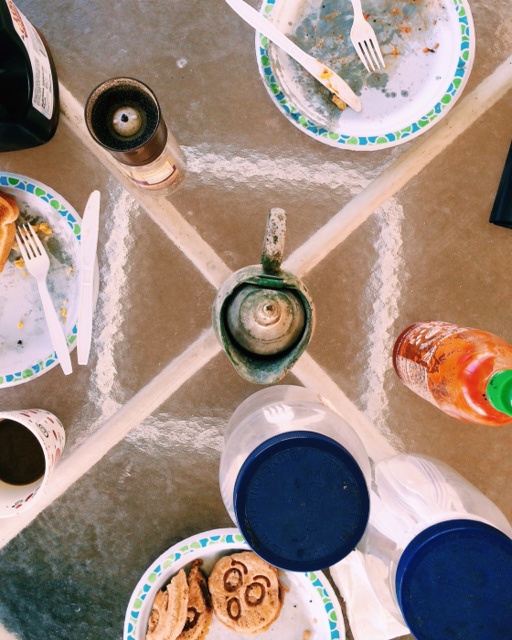 Having lived overseas, I know that spending a few weeks in a place, even over consecutive years, can only give you so much of a taste of what it's really like. But we try as much as we can to do so. How about you?